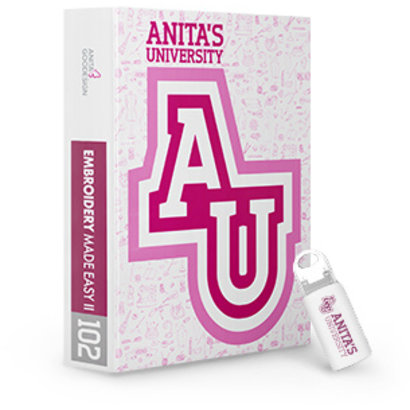 November 20 & 21 Anita's University: Embroidery Made Easy II 102
Availability:

In stock (37)
November 20, 2020 @ 9:30am - 3:30pm & November 21, 2020 @ 9:00am - 3:00pm
Anita's University: Embroidery Made Easy II 102 ...
More information
Product description
Availability:

In stock (37)
Anita's University: Embroidery Made Easy II 102
November 20, 2020 @ 9:30am - 3:30pm
& November 21, 2020 @ 9:00am - 3:00pm
Atlanta Location
Two Day Hands on Embroidery Event
All supplies and machines provided to complete projects in class plus lunches
& giveaways. $99. Early bird discount $85 until April 30th .
This two day event will be at the Sewingmachine.com location in Atlanta
Our inaugural class in our Anita's University series "AU:101, Embroidery
Made Easy" was such a huge hit that we're now offering an expanded
curriculum called "Anita's University 102: Embroidery Made Easy 2!"
If you're intrigued by blanket stitch applique then you'll want to see how
we've modernized the technique while still giving you the heirloom look.
Cutwork and freestanding lace are some other popular embroidery
techniques that will be included in this class too! Find out how Anita
Goodesign saves you time, fabric & money with our innovative in the hoop
quilting techniques. Our in the hoop projects are also sew fun & easy to
stitch! Some of the designs included in the AU:102 class are zippered bags in
the hoop, creating unique cards and unique kitchen décor. There are sew
many designs that our hoop runneth over...yours will too!
Space is limited. Register today.